Bending of CNC profiles and pipes
We bend closed profiles. We usually use the cold bending method, but in the case of such a need and the possibilities of a given material, we also work at a specific temperature. For this type of orders, we use a professional three-roller tube and profile bender. It provides a maximum bending angle of 180 degrees and a diameter of 54 x 3 mm.
We also offer specialized, very precise CNC tube bending. We process pipes made of various materials, incl. aluminum, stainless steel or copper. This process involves plastic processing of materials in such a way as to change the curvature of the pipe to the desired shape. It is done by squeezing some fibers and stretching others. Importantly, it does not affect the appearance of the material, and does not change its technical properties.
Thanks to a high-class bending machine, we can produce any number of identical parts, including those with complex shapes. We carry out wholesale orders. The elements manufactured by our company are distinguished by excellent quality and accuracy of bending. We are able to efficiently execute any order in the field of bending CNC profiles in an extremely precise manner, without the occurrence of undulations on the walls or distortions of asymmetrical profiles, e.g. flat-convex or concave-convex.
After the services of bending sheet metal, profiles or pipes, at the customer's request, we can further process the material, e.g. removing any defects or inaccuracies on the product. In addition, we also offer additional works, such as powder coating that effectively protects metal parts, abrasive machining or threading holes.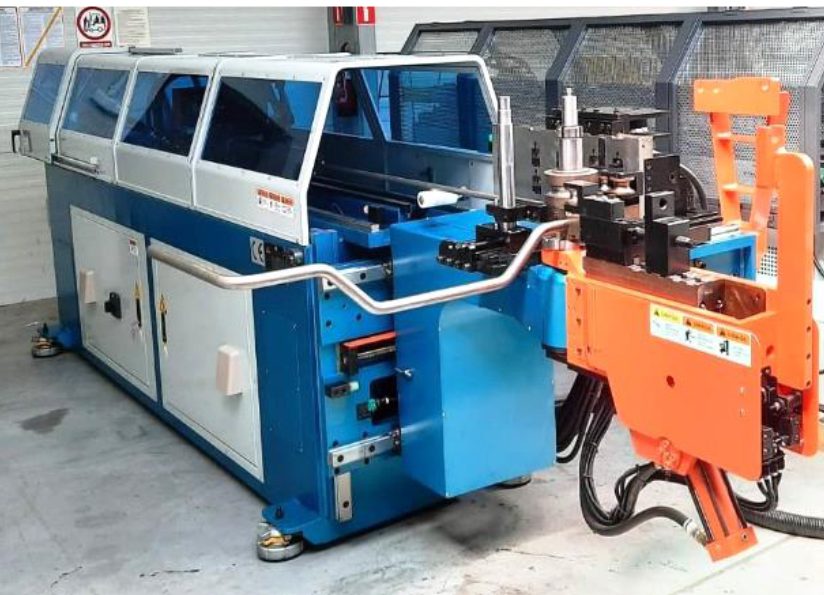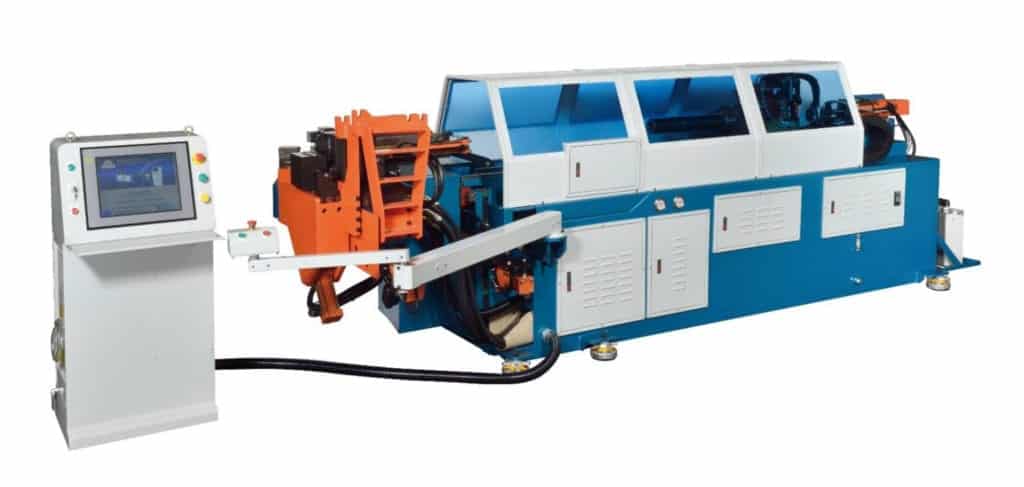 We offer professional, comprehensive bending of pipes and profiles on CNC mandrel benders. We are a company with a team of qualified, experienced specialists. We approach each order individually, guaranteeing careful and reliable work. Handing over this type of service to experienced people is the best solution, because although pipe bending seems to be a rather simple process, in fact, especially with complex shapes or non-standard materials, bending can be a challenge. We regularly improve our competences by participating in trainings or courses. Thanks to this, we can offer the highest quality and modern services. We ensure timely execution of orders. We also carry out work based on our own projects or those prepared by the client.
Our offer of bending with the use of CNC mandrel benders is directed to customers from various fields and industries. We guarantee favorable and competitive prices. We provide free, non-binding, individual work quotes. We also provide professional technical advice from specialists throughout the implementation of projects and orders. Thanks to this, there is a greater chance of finding a device that will perfectly match the specificity of the work performed. We have the best equipment that will allow us to carry out even the most demanding projects in order to meet the expectations of every customer, even the most demanding.
Technical Specifications:
Bending capacity (steel pipe):
Number of form stacks:
Standard distance between bends *:
Machine dimensions:
Bending angle range:
Maximum constant bending radius:
There are many mandrel bending machines on the market. We can find simple and manual devices usually used in small workshops, as well as automated and specialized ones, used in experienced companies and plants, operated by specialists. Such devices allow you to perform several processes simultaneously.
Mandrel bending is used in many industries: in construction, automotive, aviation and even in the furniture industry. CNC bending machines are most often designed for serial production of simple elements as well as those requiring precision and detailing.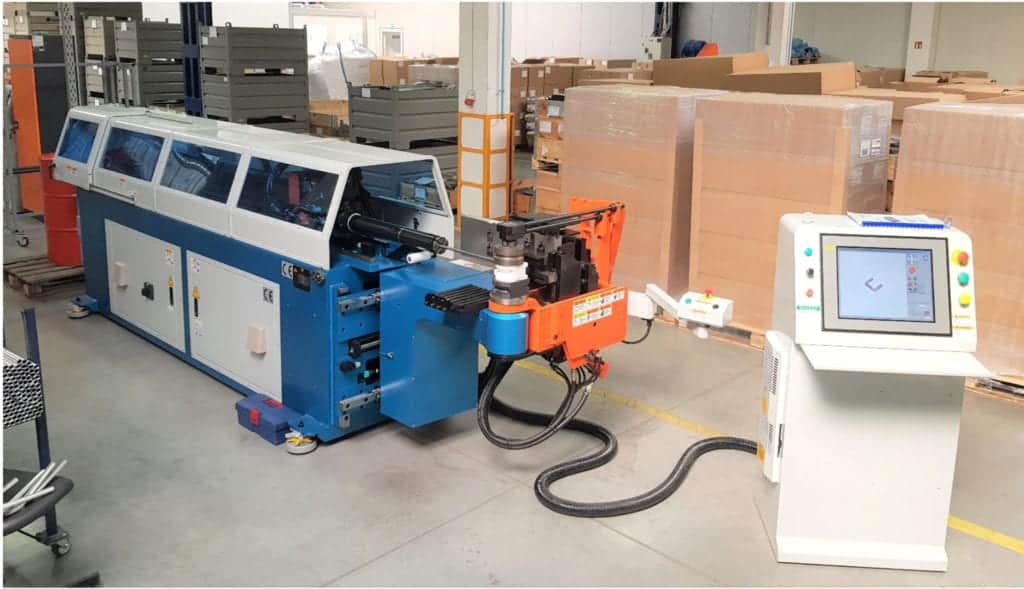 Bending on mandrel benders
The most popular CNC benders are mandrel benders. They are characterized by a special tube feeder that enables automatic bending. All movements are carried out thanks to precise mechanisms and microcomputers, which allow for very high accuracy and repeatability of the manufactured elements. The use of this type of device also shortens the bending time compared to traditional, manual machines, which is a very important factor affecting the savings in the production process, which requires bending pipes.
CNC mandrel benders can have a function that allows bending pipes and profiles on the so-called the matrix, which additionally gives the possibility of winding the pipes on rolls. This is a function called push-bending. The pipe is pushed by the feeder between special rollers that position it so that it is bent in the right place. This method also allows for three-dimensional shapes by rotating the pipe. This way, you can make a spiral, among other things. Benders with this type of function are used primarily in the production of complex elements.
By controlling the machines with a CNC controller, the machine can speed up the bending process. Mandrel benders work automatically, so they are primarily used in serial production of complex elements. Thanks to the use of the latest technologies, the most complex elements can be made in a short time and with precision. Using the latest technologies, it is possible to obtain virtually unlimited shapes when bending. The limitations that we may encounter may result mainly from the material from which the pipe was made, i.e. its plasticity. Microcomputer-controlled benders can be used to process pipes made of various materials. In practice, we deal with steel elements, including stainless steel, aluminum, brass, copper, and also plastic materials.
The bending process on mandrel benders
Mandrel bending is the ideal method for bending pipes that have a small radius. Mandrel bending is a very good solution that allows you to avoid any deformations or kinks of the pipe walls. The mandrel bent pipe remains with the same diameter at the bend point thanks to a special tool that is inserted into the pipe from the inside to stiffen it. The pipes are stiffened by a special flexible mandrel. This tool prevents any wrinkles from forming.
This process allows for the perfect radius with minimal distortion. As the shank cutting process requires specialized knowledge and experience, only our best specialists deal with it. Moreover, we use special equipment and specialized machines for this.
There is also another method of bending, the so-called stretch bending, developed for the aviation industry, and now also used for architectural purposes. It provides very precise bending.